The name Adalwolf is German and means Noble Wolf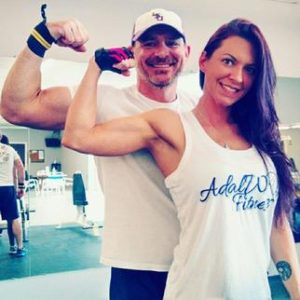 Gregg Thornton – Personal Defense and Fit Lifestyle Coach
Here is a little bit about my back story.  I am currently a loss prevention executive for a big box retailer but I have had a varied career including an A-Ball baseball player, a journeyman lineman, and a security specialists. Together we have 4 kids; my daughter and son 14yrs and 17yrs old, and my two step two sons 6yrs and 12yrs old.
My real fitness journey began 14 years ago in 2002 when I was injured by falling 60ft from a bucket truck while working.  I severely injured my back and it took roughly a year to beginning walking again.  During that time my weight ballooned from a very fit 200lbs to a very unfit 300 plus lbs!  I could not walk without the use of a cane and was in severe pain every second of every day.  I knew I had to make a change.
I started by walking around my garage because I was embarrassed to be outside walking.  I also changed my eating habits.  Slowly I saw progress, slowly things got better and with more progress I became more confident and starting lifting weights again.  I had always been a gym rat and the "therapy" that was the weight lifting not only helped me physically but emotionally as well.  I eventually got my weight down to around 230lbs.  I was able to get off disability and start back part time in the work force.
It was at this time that I went from a part time worker to full time loss prevention and went through self defense training but I was still too heavy for my severely damaged back and legs to handle.  In short I knew I had to make more changes but I was stuck.  As fate would have it that is when my amazing wife came into my life!  She taught me about how to eat properly and how to fuel my body so that I got the most from it.  I started seeing amazing results!
Unfortunately at this time in 2014 the injury to my back raised its ugly head again and things got bad enough that my doctor actually asked me if I had kept my cane!  My medication increased and the only option I was given was more surgeries and physical therapy.  Honestly I had no intention of having another surgery and couldn't stomach the thought of having to endure more physical therapy. Ashton knew I couldn't go through that all over again. So she came up with a plan that included very modified exercises that mimicked the physical therapy my doctors wanted me to do. These exercises targeted my core and back muscles.  And it worked!
Core and leg training is something that I honestly stayed away from since my injury due to the amount of pain it caused. But Ashton was able modified a plan just for me to work around my limitations. In a few short months I had more strength and range of motion than I had had in years.  I was also able to get off of ALL the heavy narcotics I was on to help with the pain.  I still fight with daily pain as with any major injury, but I am not fighting it medicated out of my mind which is a blessing.
In 2016 I was 40 years old and weighed 185lbs, and I'm living a life I never thought I would again. Not only am I walking without that cane but I can now go on a run with my wife, ride bikes with our kids, and so much more! Things I haven't been able to do in years and never thought I would again.
I'm a living testament that changing to a fit lifestyle can do more than just make one skinny or ripped. It changes your life all together!

Ashton Thornton – Personal Trainer | Nutrition Specialist | Personal Defense Instructor
I have 14 years law enforcement experience, 10 years as a Police Officer and 4 years as a dispatcher. As an Officer I learned how to protect myself on and off the street through training.I am also a mother of 4. My two sons are 7yrs and 13yrs old, and my two step children are 15yrs and 18yrs old. Needless to say I stay busy!
My back story is that after my youngest son was born I weighted 220lbs at a size 16. I was unhappy with myself my health started to decline. So I knew I had to make a change. That was in 2010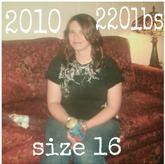 I started with my nutrition.  It wasn't a lot but it also wasn't the right kind of food either. I wasn't eating enough and not enough of the right foods. After changing my eating habits I lost 60lbs. That brought me down to 160lbs at a size 10. That was in 2011.
I was still intimidated with going to a gym so I started working out at home. I had no idea where to start so I just started moving! Push ups, sit ups, attempting to run.
This honestly was embarrassing seeing how I just graduated from the police academy in 2008 and I could barely jog a quarter mile. How was I supposed to keep up in a male dominated profession!?! This kept me motivated and lost an additional 25lbs-down to 135lbs at a size 5. That was in 2012.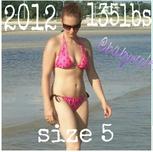 I felt much better about myself and by this time my health had improved, but I didn't stop. With each passing year I have repeatedly set new goals for myself and with each one I achieve I set a new one. This last pic was in 2016 I was 32 years old and weighed 130lbs at a size 2, and training to become an IFBB Bikini Pro one day!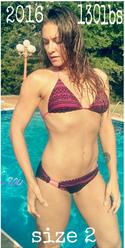 I'm here to pass on what I have learned along my journey. It's not easy being a working parent in this world keeping up with everyone and still taking care of ourselves. But it can be easier than you think once you learn the right tools that will work for you and the whole family.